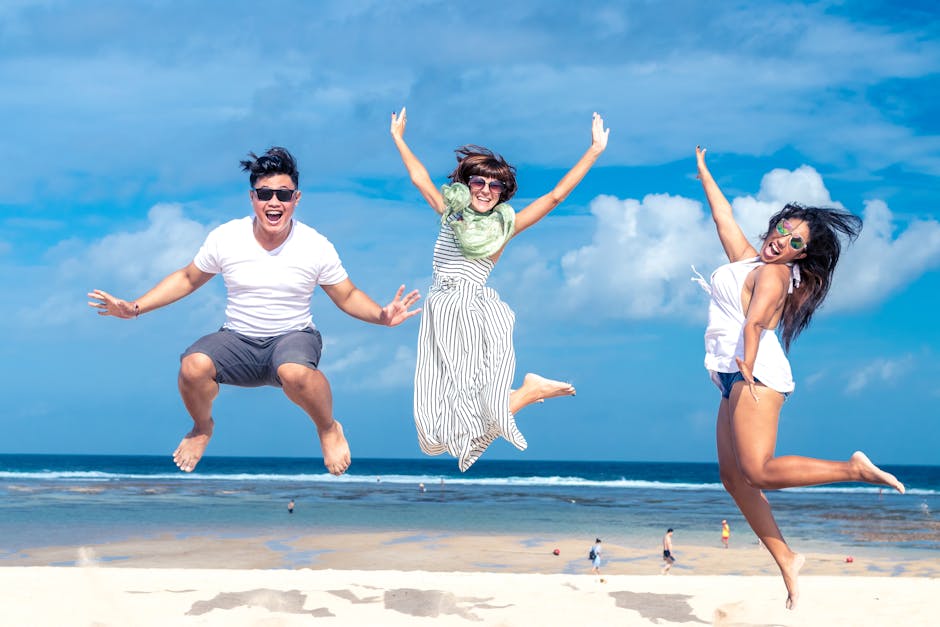 Originally posted on http://www.keyc.com/story/39913040/sunny-and-glowing-10-things-you-can-do-today-to-get-yourself-ready-for-summer
Do you have weight loss goals for 2019? If so, you're not alone. Nearly 50 percent of Americans are in the same boat.
It may be early in the year, but that doesn't mean you can't start thinking about your summer body. Now is the perfect time to tackle those weight loss goals and make sure you're ready for the warm weather.
There's more to getting ready for summer than just weight loss, though.
Read on to learn about 10 things you should be doing to make sure you're totally prepared for the summer season.
1. Start Lifting Weights
If you have your sites set on weight loss, you might be tempted to jump on the treadmill or elliptical for an hour a day. This might seem like a good idea to burn more calories, but it's actually not ideal if you want to look tight and toned at the beach.
When you do excessive amounts of cardio, your body begins to adapt and stops burning as many calories. Lots of cardio might help in the short-term, but it won't yield long-term results.
Instead, make strength training a priority. There are lots of health benefits that come with resistance training, including increased muscle mass, reduced risk of osteoporosis, and a faster metabolism.
Start lifting weights now, and you'll likely feel a lot more confident when summer arrives.
2. Take a Break from Alcohol
If you're like most of us, you probably indulged a little more than you should have during the holidays.
A great way to jumpstart your health and fitness goals and give your body a bit of a break is to cut back on your alcohol consumption.
Not only are alcoholic beverages full of empty calories, but alcohol can also lower your inhibitions and increase your chances of overeating. Neither of these scenarios is great for your waistline.
3. Set SMART Goals
It might be tempting to set big goals for your summer body. But, remember to be realistic. Instead of saying you'll lose 40 pounds or have a six-pack by June, focus on setting goals with which you can follow through.
Set goals that are SMART — specific, measurable, attainable, relevant, and timely. An example of such a goal might be, "I will lose 15 pounds by June 1 by exercising three times per week, cutting out alcohol, and eating 1700 calories per day.
You'll be more likely to actually achieve these goals and turn your lifestyle changes into long-lasting habits.
4. Give Yourself Something to Look Forward to
If you're having a hard time finding motivation, consider giving yourself something to look forward to. Maybe you need to plan a vacation to a beach location or sign yourself up for a July 4 5k.
If you have something you're working toward with a strict deadline, you'll have an easier time sticking to your goals.
5. Eat Whole, Unprocessed Foods
You don't need to go on a crazy cabbage soup diet to lose weight. Start by justing cutting out high-sugar, high-calorie processed foods.
Many people find that when they focus on whole foods and cut out the packaged products designed to make them overeat, it's easy for them to lose weight and keep it off.
6. Give Dry Brushing a Try
So far, we've talked about ways you can lose weight and tone up for the summer season. But, there are lots of other things you can do to get summer-ready that don't involve weight loss.
For example, you can try dry brushing your skin. As the name suggests, dry brushing involves running a dry brush over your body.
Many people say that dry brushing has minimized the appearance of their cellulite. It also helps to exfoliate the skin and keep it looking nice and smooth.
7. Show Your Skin Some Love
Now is a great time to revamp your skin care routine, too. Focus on exfoliating, and make sure you're giving your skin plenty of moisture, too.
If you make skincare a priority now, you'll feel much more confident showing it off when summer arrives.
8. Ditch the Razors
Nobody wants to step onto the beach with razor burn or stubble.
If the idea of keeping up with a rigorous shaving or waxing regimen during the summer months makes you cringing, consider investing in laser hair removal treatments.
If you start these treatments now, your skin should be smooth and hair-free by the time summer gets here.
9. Show Your Feet Some TLC
Be sure to take extra good care of your feet right now, too. It's tempting to ignore them during the winter months when they're encased in thick socks and snow boots.
If you start prepping them now for sandal season, though, you won't have any qualms about showing them off at the beach or pool.
Treat yourself to regular pedicures, or do regular weekly scrubs at home to slough off dead skin and keep your feet (especially your heels) nice and smooth.
Make sure you're applying a thick cream to your feet each day, too. Put it on in the morning before you put on your socks.
10. Get Plenty of Sleep
Finally, take advantage of the slow pace of winter and get some extra rest.
Go to bed early and make sure you're getting plenty of quality sleep. Avoid blue light exposure at night and keep your room dark and cool.
Not only will getting extra sleep help you feel your best during the day, but it can also aid in your weight loss efforts and help you get your summer body sooner!
Start Getting Ready for Summer Today
We may still be a few months away from warm weather, but that doesn't mean you can't start getting ready for summer now.
Start implementing these strategies today and you won't find yourself scrambling when June rolls around and it's time for your yearly vacation.
Are you looking for more health and fitness tips to help you get summer-ready?
If so, be sure to check out the health news section of our site today. It's full of helpful information that you can use to look and feel your best.
Information contained on this page is provided by an independent third-party content provider. Frankly and this Site make no warranties or representations in connection therewith. If you are affiliated with this page and would like it removed please contact pressreleases@franklymedia.com