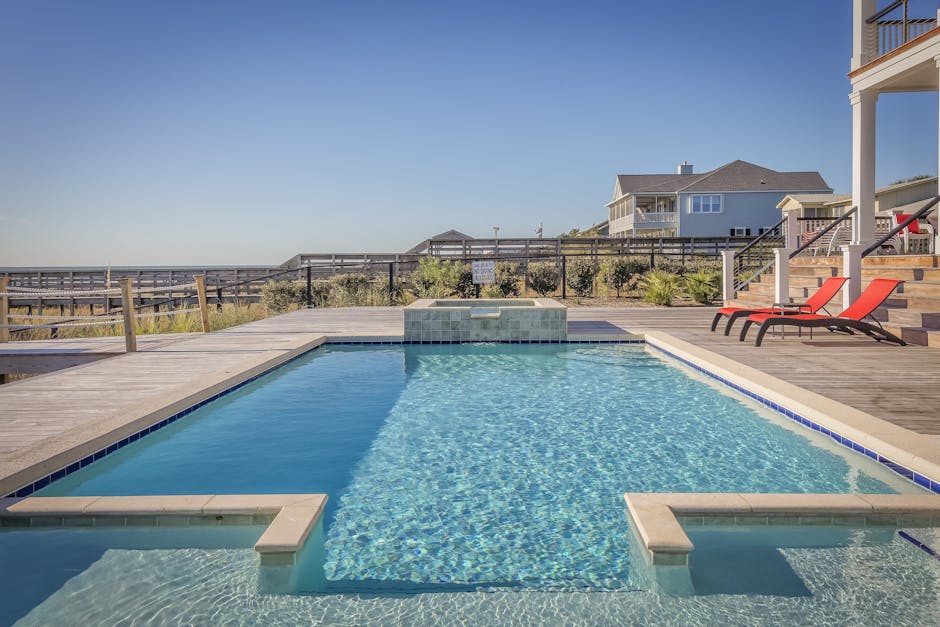 Originally posted on http://www.fox34.com/story/40820687/pool-maintenance-cost-calculator-the-real-price-of-pool-ownership
Did you know there are 10.6 million swimming pools in the United States?
With so many pools it might not surprise you that every year more people choose to install a pool in their home.
With the weather getting warmer, have you been thinking of installing a pool in your home? It helps to plan ahead of time and know what pool maintenance cost entails. Keep reading as we give you a breakdown on what to expect.
Pool Maintenance Cost: The Real Price of Pool Ownership
Most people are tempted to create a backyard oasis late spring and early summer because the weather finally begins to warm up. Usually, this oasis involves having an in-ground pool built, comfortable lounge area and maybe an outdoor kitchen.
After you figure out how much you will be paying for a new pool using a pool loan calculator it's time to figure out the expenses once your pool is done. The ongoing maintenance is something you will want to take into account to make sure you fit it into your budget.
Before we dive in please don't forget that prices will vary based on where you live. The national average to maintain a swimming pool is $233 for every one-time cleaning.
Chemicals
Something that you will want to make sure you are aware of is the recurring cost of buying chemicals. This is a necessary expense that will come like clockwork and you can't avoid.
Even if you find a discount store and do the work yourself you have to buy chemicals to make sure the pH levels are correct or else your pool investment can turn into a green swamp if you're not careful.
Weekly Upkeep
This will not cost you money but instead will cost you your time. You will have to take time to skim the pool every couple of days. This will ensure that there is no debris building up, clogging the filters.
You will also have to take time out to vacuum the bottom of your pool and clean your filters.
You always have the option to hire someone to do this for you if you don't have the time or don't want to take care of it yourself. If you choose to outsource the work then you can add an extra bill to maintain your pool every month.
Per year you are looking at spending between $1,200-$1,800 for basic pool upkeep.
Future Equipment Break Downs
This is not something that you will have to worry about in the first year or first few years but long term speaking you will want to think about this and take it into account. Eventually, you will have to replace your pool vacuum and pool filters. This can easily add up to a couple thousand dollars.
Depending on how often the pool is used you will also have to think about paying to have your pool resurfaced.
Electricity
This is something that you probably already took into account but we have to remind you that your electricity bill will increase. Pumps have to run all the time in order to filter through the water and keep it clean. If you choose to go for a heated pool this extra heater will also raise your electric bill.
Water Bill
Not only will your electric bill go up but so will your water bill. The initial fill of your pool will be your largest bill. After that, you will only pay for the water you have to add from any evaporation.
If you live in any drought-prone areas don't forget you will have extra charges in overuse fees.
Insurance Price Increase
Something that you might not think about initially is your home insurance. When you add a pool to your home your liability for an insurance company goes up. This, in turn, means a price increase in your policy.
Keep in mind that the insurance rates vary from state to state. Similar to how vehicle insurance varies by area.
Insurance companies aren't fond of pools in homes because they see them as something that attracts neighborhood children and teenagers to break into your home to use. These break-ins can cause one of them to get injured and in turn, can lead to a lawsuit.
Winterization
If you live in a state that you will experience winter then this is another expense you will have to take into account. Very few states don't have to deal with this process.
The price to winterize your pool will vary but it will have to be done by a professional. When they winterize your pool they will perform the following:
Clear the water lines
Shock the water
Lower the water levels
Clean the pool
Close and store filter elements
Backwash the filter
Install a cover
This job will take a couple of visits because the water has to be shocked a few days before closing the pool.
After Winter
Once winter is over you will have to think about opening your pool for the season. This will be another expense that will vary depending on where you live.
During this process a professional will:
Remove the cover
Refill the pool water
Reassemble the filter system
Clean the water
Test the water chemistry
Turn on the pump
Make sure when you open your pool the weather is ready for it. The last thing you want is to open it and for a random snowstorm to come by a week later.
Happy Swimming!
There you have it all the extra pool maintenance cost that you will want to take into account. It's better to go into something like building a pool for your home with all the financial details that will affect you in the future.
Please don't forget to bookmark our site to never miss any of our latest posts and news!
Information contained on this page is provided by an independent third-party content provider. Frankly and this Site make no warranties or representations in connection therewith. If you are affiliated with this page and would like it removed please contact pressreleases@franklymedia.com