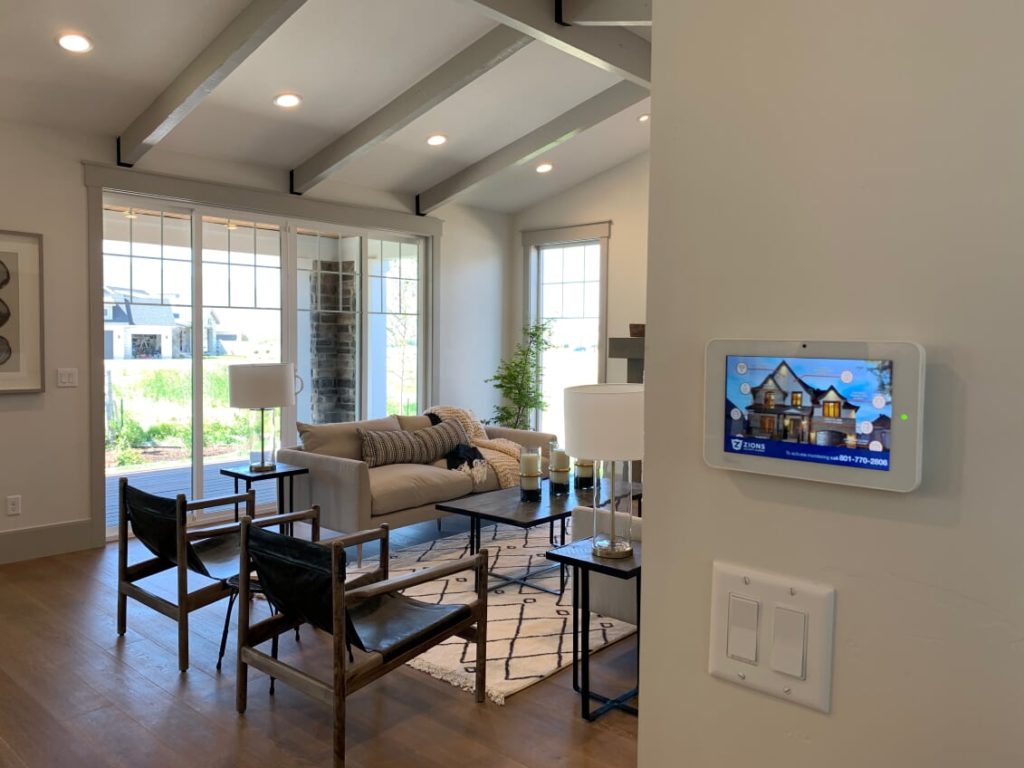 Originally posted on https://zionssecurity.com/home-security/5-signs-that-your-new-home-is-lacking-in-technology/
Many builders are faced with the problem of what technology they should have in their new home now days. These signs will help you know how to improve your home technology and security.
SIGNS:
Standard doorbell or smart doorbell that doesn't integrate with your other smart home devices.
Standard door lock
Standard Thermostat
No pre-wiring for networking access points
Doesn't have a Color touchscreen keypad that integrates security, fire monitoring, and video.
1. STANDARD DOORBELL
A Standard Doorbell is one of the first signs to indicate that you are in need of an upgrade. Are you really going to build a modern state of the art home and install the same doorbell your grandma used when she built her home? Although a smart video doorbell is a reasonable upgrade, there are only a select few that integrate with other smart home devices. Some people install the Ring Doorbell. While the Ring Doorbell works fine, it is lacking in that it is a stand-alone doorbell that is not compatible with any alarm system. Whereas the new ADT Command Doorbell has a clearer and wider picture while also being apart of one ecosystem through ADT Control. It is important to connect to your system as it provides your system with a notification when someone is at your door so you know exactly what is going on at all times.
2. STANDARD DOORLOCK
Another tell tale sign that your home is lacking in technology is a standard doorlock. Who wants to carry and use metal keys still? No one. There's no reason to still carry a house key. You should be able to get into your home either with a code or your smart-phone. Many smart doorlocks available on the market today are great if they have Z-Wave technology which allows them to connect to multiple security systems and smart home devices. Who wants to have an extra app just for your lock? That is the problem with most Wi-Fi doorlocks. If the doorlock does not have Z-Wave capabilites or is unable to connect to a security system, you will want to avoid it. We recommend any of our Smart Doorlocks available here which work with any Security System compatible with Z-Wave.
3. STANDARD THERMOSTAT
The problem with regular thermostats is that they can only be controlled manually and see what the temperature is by going up to the thermostat itself. Smart thermostats can be remotely controlled from your phone while being connected to your alarm system. The benefit of having your security system connected is that it allows the thermostat to know you are home and then automatically set the temperature to what you want. I would avoid Wi-Fi Thermostats like Nest or Ecobee because they just give you one more app, and they're not as smart since they can't integrate with your smart system. Furthermore you have additional features/options to suit your needs, for example, If the window is open> Then turn off air conditioner, or If there is a fire > Then turn off the heater and unlock the door.
4. NO PRE-WIRING FOR ACCESS POINTS
How many Wi-Fi devices are in your house today? Do you want a strong connection throughout your entire home? The most effective way to accommodate several devices and great coverage is having a quality router and access point. Pre-wiring for access points allow you to extend that network to give you full Wi-Fi bars no matter where you are at around your home. Relying entirely on an in-expensive router in the corner of your home is thing of the past. Click here to check out our available access points and routers.
Here is also 4 additional ways to improve your Wi-Fi:
For more info on how to improve your Wi-Fi Check out our blog post here.
5. MISSING COLOR TOUCHSCREEN PANEL
Are you going to build a brand new home with all the latest appliances, but then install a rubber button keypad from the 80's? The security industry and it's products have continually evolved from complicated keypad systems to sleek easy-to-use touchscreen systems. Whether you have a system or are in need of a new one, a touchscreen keypad will be the best option. The panel acts as a main control hub for all of your smart security and automation devices such as lights, thermostats, doorlocks, and more. While their sleek modern design allows it to fit into any dcor.
Newest touchscreen systems available that we recommend:
WHAT WOULD IT COST TO UPGRADE THESE MISSING ELEMENTS?
Take a look at our customizable packages available here and contact us for pricing and questions. Pricing will vary depending on how many smart devices you want included.
Information contained on this page is provided by an independent third-party content provider. Frankly and this Site make no warranties or representations in connection therewith. If you are affiliated with this page and would like it removed please contact pressreleases@franklymedia.com