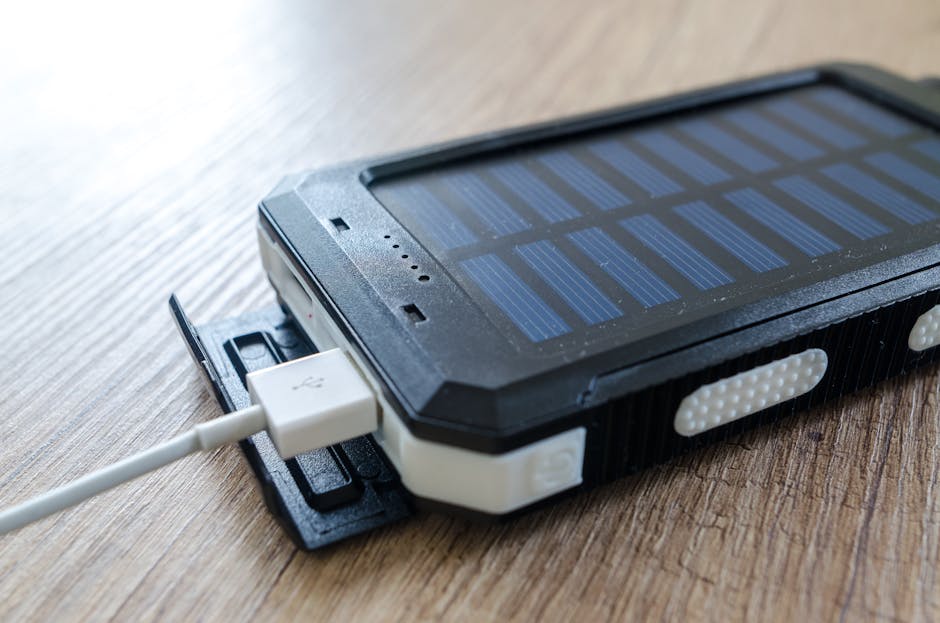 Originally Posted On: https://www.news9.com/story/41091321/how-to-find-the-best-solar-battery-charger-for-your-devices
Your trusty power bank, always ready to save your bacon in an emergency… But what happens when it runs dry? What if your area experiences a blackout that lasts more than a day, or you find yourself stranded far from civilization?
In these circumstances, it won't do you any good to have a power bank that's as tethered to the grid as any other electronics you own. You need something that can draw its energy from the natural world around it – a solar battery charger.
There are thousands of options, but that doesn't need to worry you! Simply use this guide to sort out the junk from the gold.
A Solar Battery Charger for Your Needs
The three most important universal factors to consider when looking for the best portal solar charger are;
How fast it charges in sunlight
The capacity of the power bank
How it charges your devices
Of those, the last one is where it's important to consider your individual needs. You should give extra weight to solar chargers that fit criteria like;
The number of devices you expect to charge at once
The charging speed you expect for each device – half an amp might be fine for a flashlight, but at that rate, a tablet could take days to charge
If you have any devices that need special plugs – the pump for an air mattress or the wireless charging pad for a smartwatch may need a standard outlet, not a USB port
What Reliability Means to You
Consider if you'll be using this charger regularly – are you a weekend camper? Or is this going in your trunk, likely to see the light of day only in the event of some emergency?
A weekend camper should focus on a charger with a battery pack that can handle many discharge cycles. The general range for a small portable power bank should be 500-1000 discharge cycles (the number of times it can drain and refill before it loses most of its capacity).
On the other hand, for a power pack only used in the event of an emergency, you should prioritize how well the battery charge holds up in storage – after all, you can't guarantee it'll be a bright sunny day when you break down by the side of the road with a dead cell phone. Temperature has a substantial effect on a battery's ability to hold a charge, as well as charging and discharging speed, so be sure to take the operating temperature of the power bank into consideration.
How to Compare Battery Capacity
For a typical portable solar charger with a power bank, the battery capacity is measured in mAh – milliamp hours. The same goes for many small personal electronics, like your cellphone or GPS.
Bear in mind that these are not apples to apples – a power bank cannot be perfectly efficient, so a 3,000mAh power bank can't completely recharge your 3,000mAh phone battery.
Here's the average range of capacity for common devices;
Cellphones generally range from 1,500 to 4,000 mAh
Laptops generally range from 2,000 to 6,000 mAh
Smartwatches range from about 110 to 500 mAh
Larger systems, like those that can keep your appliances running during a power outage, will often have tens or even hundreds of times the capacity of these smaller power banks. You can find examples of this type of system on sites like PoweredPortableSolar.com, along with the larger solar arrays you'll want to recharge them.
The main thing to keep in mind with battery capacity is that the capacity of the power bank in your solar USB charger should be greater than that of all the devices you want to charge with it put together, plus around 10%.
The All-Important Solar Panel
It's not the best solar phone charger if the solar panel is weak – it's a battery pack with a solar panel slapped on. Unfortunately, solar panel efficiency isn't always easy to convert into charging times.
The primary focus here should be on full, partial, and low sun charging times, as stated by the manufacturer. You could attempt to calculate the charge time based on the wattage of the panel, but given the multitude of other factors that can influence charging time, it's often better to just go with their math.
Here are the charging times you should be looking for under each condition;
Full sun – less than 4 hours
Partial sun – less than 7 hours
Low sun – less than 12 hours
If the product you're looking at can't meet these numbers, that means the ratio of power bank size to panel efficiency is off. This could lead to you needing to charge your power bank for hours, to charge your phone for nearly an hour, all so you can use it for just a few minutes. It's hard to think of something more frustrating than that.
Ports and Amperage
This is the last thing that many people consider, but it's vitally important if you don't want to have the power pack dangling from your phone the whole time you're using it.
Ports found on power banks include;
USB type A (this is your standard, run of the mill, one-size-fits-all USB port)
USB type C (this is the new standard – small, reversible, and very powerful)
Lightning (Apple's standard – small, reversible, powerful)
120v AC (rare on low-end power banks – this is a standard outlet, and you can plug any normal plug into it)
The important thing to note here is that USB type A, the standard USB port, has the lowest current capacity of all the options here. So if you can get one with ports matching your device – Lightning for Apple devices, Type C for newer Androids – your device will charge substantially faster on that port.
What You Should Focus On
If you have the time to do all your homework and check all of the above, that is absolutely the way to go. But this is the modern world! Maybe you don't have time to cross-reference everything, and you just want to know which of your top 3 choices will get the job done. So as a final note, here's how you should prioritize your top picks:
Does it have a port that matches your device, e.g. Lightning or USB type C?
What is the power bank capacity in mAh, and is it enough for all your devices? 5,000mAh is good for one recharge of most phones, but is that enough for you?
How fast does the solar panel charge the battery bank? This should be less than 4 hours in full sun.
Now that you know how to find the perfect solar battery charger to fit your needs, feel confident in your decision, and pick one up today! Who knows, it may come in handy sooner than you think.
Information contained on this page is provided by an independent third-party content provider. Frankly and this Site make no warranties or representations in connection therewith. If you are affiliated with this page and would like it removed please contact pressreleases@franklymedia.com