Impact.
Highlighting Anomalies Amongst the Week's Biggest Gainers, Losers, & Volume Leaders
by Christian Galatti (Phase 4 Research)
How to Value a Microcap That Guides to Over $1 Billion in Revenue.
Infrastructure & Energy Alternatives [IEA]...126x Average Volume on July 1st
Story.
A year and a half ago M III Acquisition Corp targeted an infrastructure company that had a leading share in wind farm construction. Infrastructure & Energy Alternatives already claimed over 200 projects that delivered 14GW. With the extension and safe harbor of the Production Tax Credit, wind was looking to make a comeback that would put IEA into growth mode (Deloitte PTC discussion link.) It would take another six months to complete the deal.
March 26 - 2018: Mohsin Y. Meghji, Chairman of the Company, commented, "We are very pleased to have consummated this transaction, and appreciate the support of MIII's stockholders. IEA is a leading developer of 21st century energy infrastructure that is well-positioned to capitalize on increasing wind and solar engineering and construction opportunities, as well as a broad range of projects in the heavy civil infrastructure space. We are excited about IEA's growth prospects and look forward to building a strong public company which will create long term value for its stockholders." (Link.)
The stock was priced at $10 based on the strong numbers posted pro forma for 2017 with $16M in net income, and $52M in adjusted EBITDA (please note link above.) The stock would trade sideways until winter when it started to become clear that regional storms would delay almost every wind project IEA had. When the stock dropped, management issued guidance to stop the fall. Stating that they would make over $1billion even though the growth had slowed.
The Company now expects pro forma revenue in the range of $1.25 billion to $1.26 billion and Adjusted EBITDA in the range of $80 million to $85 million for the fiscal year ended December 31, 2018. This compares to previously announced guidance of $1.27 billion to $1.36 billion in pro forma revenue and $110 million to $130 million in pro forma Adjusted EBITDA for the year. The Company also announced today its guidance for full year 2019. IEA anticipates 2019 revenue in the range of $1.0 billion to $1.2 billion and Adjusted EBITDA in the range of $90 million to $110 million for the year. (Link.)
Nothing would stop the drop. $8 quickly turned into $6 when profitability disappeared. And $6 turned into $2 even though IEA guided to over $2B in backlog in May,
Awarded $232 million of new contracts, including projects across all business units
Backlog increased from $2.1 billion at

December 31, 2018

to $2.2 billion at

March 31, 2019

Revenue increased 281% year-over-year to $190.8 million
Reiterating full-year 2019 guidance for $1.0 billion to $1.2 billion of revenues and $90 million to $100 million of Adjusted EBITDA.
The Market is quickly trying to understand the value of IEA. A Company that will make over $1B in revenue, with $2B in backlog. With Wind about to rebound. A $65M microcap that nobody knows may have just found its footing after securing two more wins.
Shares of Infrastructure & Energy Alternatives Inc. IEA, rocketed 38% in very active trading Monday afternoon, after the energy infrastructure company announced two new wind energy awards valued at about $150 million. That was enough to make the shares the biggest gainers on the Nasdaq. Trading volume spiked up to 23.6 million shares, compared with the full-day average of about 206,500 shares (link.)
Analyst Disclosures: None (no ownership or relationship with company).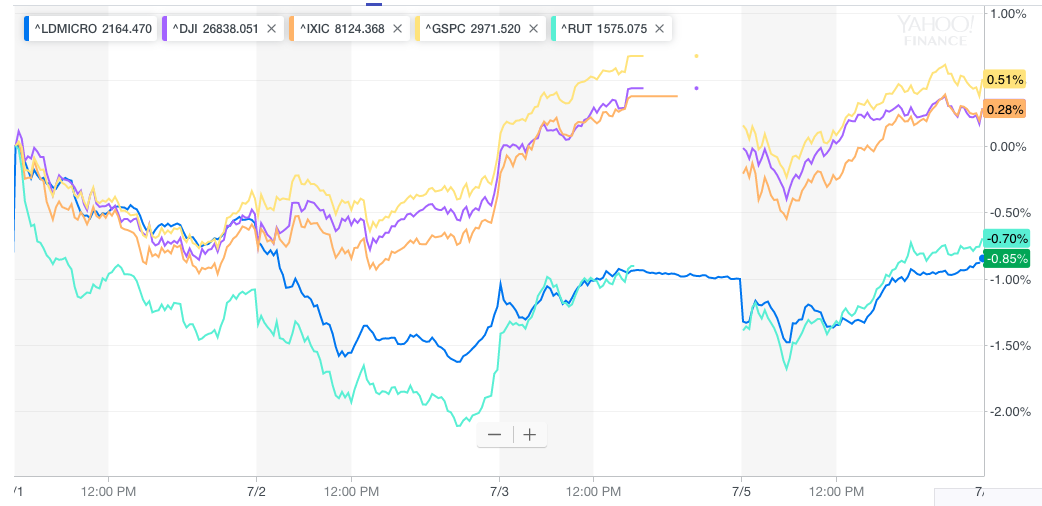 Last week was largely uneventful, despite a few mini-rallies on good news, or bad news, depending on who you ask. All indices closed within 1% of flat for the week.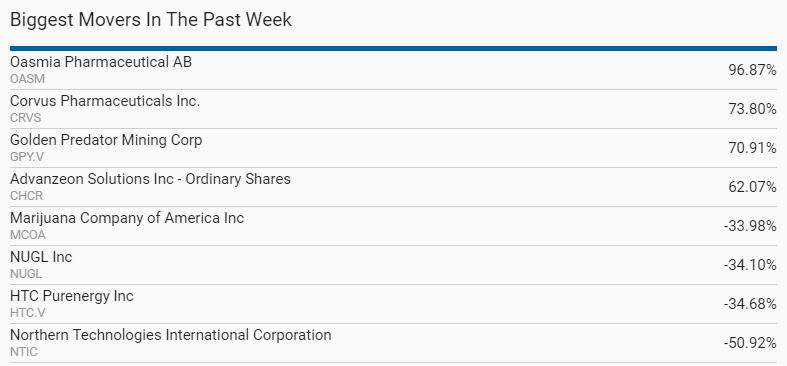 Equities Contributor: Chris Lahiji
Source: Equities News
Information contained on this page is provided by an independent third-party content provider. Frankly and this Site make no warranties or representations in connection therewith. If you are affiliated with this page and would like it removed please contact pressreleases@franklymedia.com