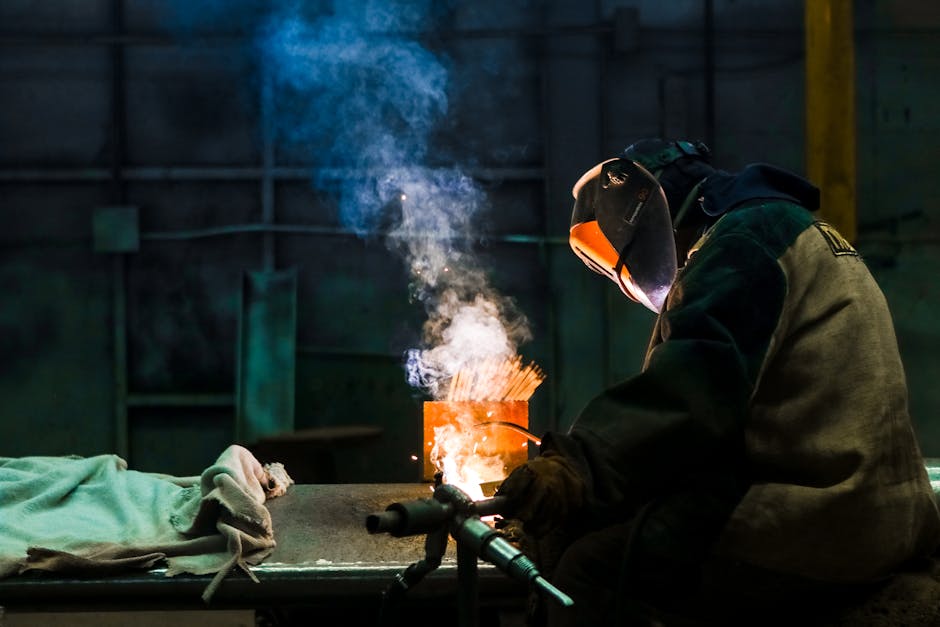 Sparks fly. The metal melts. Bright light looms as the welder joins the metals.
Whether you're a DIYer or a worker for a contractor, welding is crucial to building up the structures that are your end goal.
There exists, however, many different types of welding to choose from. MIG welding is just one of the many, but it's also one of the most popular types of welding and for good reason.
In this article, you'll learn exactly what MIG welding is, how it's used, and whether it's the right choice for you.
What is MIG Welding?
MIG (Metal Inert Gas) welding is also known by another name — GMAW — which stands for Gas Metal Arc Welding. This name gives you a better idea of what MIG welding is.
Without getting into the nitty-gritty of the science behind it, MIG welding uses a continuously fed electrode in solid form. The electrode is a metal wire that comprises what you see as the joining metal in the final weld. A MIG welding gas, combined with an electrical power source, is used to melt the electrode onto the subject matter being welded.
MIG vs TIG Welding
The primary difference between mig and tig welding is the manner in which the electrode is fed to the welding apparatus. TIG (Tungsten Inert Gas) welding requires that the welder use a second hand to feed the electrode through the welding apparatus. Whereas, with the MIG welder the electrode automatically comes through.
Now, you may be wondering why anyone would choose a TIG welding process when MIG welding sounds so much easier, but there's a simple answer.
TIG welding results in a cleaner, smoother finish than MIG welding. This is because TIG welders can also use a foot pedal to control the electric power source that is supplied to the gas. This, in turn, controls the melting of the electrode, allowing the welder to just have more overall command of the weld. Thus, MIG welding is to be used when you don't need the perfect finish, and when you don't have a ton of experience and skill with welding.
For a beginner welder, however, MIG welding is definitely the way to go. Not only is it much easier to learn and do, but the sacrifice with quality isn't as significant as you can think. You can still craft beautiful welds with enough practice and skill.
MIG Welding Tips
Use these tips to make you a better MIG welder.
Know Your Metal — When MIG welding aluminum, for example, you're going to use a different welding process than if you were welding copper. Know how each metal that you will weld on will react to the welding process before you begin.
Use Both Hands — Don't be scared to bring your off-hand into play to guide the weld and accomplish a cleaner finish. Just make sure to get the best heat and spark resistant welding glove you can buy, and your hands will be just fine.
Contact Tips are Meant to Be Replaced — Not only are contact tips cheap, but they're also easy to replace. If you notice one going out, go ahead and replace that sucker before it messes up the weld. Keep extra contact tips in your bag of welding apparatus.
Weld Like a Superstar
Now that you understand what MIG welding is and how to use it, go out there and rock your welds! Whether you're making something for yourself at home or creating a weld that will go into a commercial structure, there's nothing quite like the satisfaction of seeing yourself make the perfect weld.
For more DIYer tips, make sure you subscribe to the blog so you never miss a post!
Information contained on this page is provided by an independent third-party content provider. Frankly and this Site make no warranties or representations in connection therewith. If you are affiliated with this page and would like it removed please contact pressreleases@franklymedia.com